Erasmus Mobility Programme – Study visit of teachers from Greece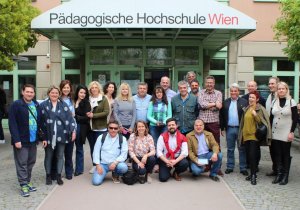 From April 15 to April 22, 2018, twenty teachers from Patras and Nafpaktos, Greece, will attend a study week at the University College of Teacher Education Vienna (PH Wien) in the course of an Erasmus mobility programme.
The participating teachers work in secondary vocational education (technical department) and come from two Greek schools, the 2nd Laboratory Center of Patras (2nd LC) and the DIEK NAYPAKTOU. 
The major objective of the 2nd Laboratory Center of Patras, for example, is to provide support to local professional technical schools and other training institutions through fully equipped laboratories.
The training week for the Greek teachers is organized by PH Wien, represented by the ZLI (the Center for Learning Technology and Innovation, with the project coordinators Martin Sankofi and Petra Szucsich) as well as the IWQ (project coordinator Katharina Grubesic). Although the main focus of the study visit at PH Wien lies on digital learning and mobile learning, the programme also includes information on the Austrian educational system as well as several school attendance trips at vocational colleges in Vienna with an emphasis on e-learning.
The Erasmus mobility programme
The Erasmus mobility programme is, on the one hand, supposed to strengthen the relation between Austria and Greece for a mutual improvement of elearning and mobile learning strategies. On the other hand, it promotes a stronger coherence between different EU countries, so as to ensure that skills and qualifications can be easily recognized across borders.
Links